The 2021 Federal Human Trafficking Report was released today on our website. The Report, a project of HTI, is a continuation of HTI's efforts to provide comprehensive data about every criminal human trafficking case filed in the federal courts each year.
This year the Report features additions like more data on victims identified in federal cases and more information about defendants, as well as new data fields like locations where victims are commonly recruited, how victims are transported, pre-existing relationships between traffickers and victims prior to recruitment, and methods through which human trafficking cases are referred to law enforcement.
In exciting news, we are also launching a new website with interactive data dashboards from the Report. The website will allow researchers, reporters, and the general public to sort and view the data most relevant to them. The site currently features the ability to sort case information by district, type of trafficking, ages of victims, pre-existing relationships between victims and recruiters, and industries in which forced labor occurred. The Report database is extensive and this new site will provide a significant resource to anyone interested in learning about the types of human trafficking cases prosecuted in the United States.
"To celebrate the fifth Federal Human Trafficking Report, we are including an interactive component to our data to make the Report even more useful to policymakers, prosecutors, researchers, and reporters looking to learn more about how the United States is enforcing its human trafficking laws," said Victor Boutrous, HTI CEO. "This website provides all of us with necessary data to improve our collective efforts to fight human trafficking."
The Report presents important trends in new cases filed last year. In 2021, there were a total of 140 new criminal human trafficking cases filed in the United States Federal Courts. In these cases, there were 449 victims and 260 defendants. 92 percent of cases filed were for sex trafficking, while 8% were for forced labor.
"The extensive data collected in the 2021 Federal Human Trafficking Report makes it a fantastic tool for both practitioners and the public to evaluate our response to combating human trafficking through the Federal justice system," said Lindsey Lane, HTI Senior Legal Counsel. "Prosecution is an essential component of the U.S. anti-human trafficking response. This data makes it easy to understand trends in prosecution between 2000 and 2021, providing valuable insights we can use to ensure traffickers are brought to justice for years to come."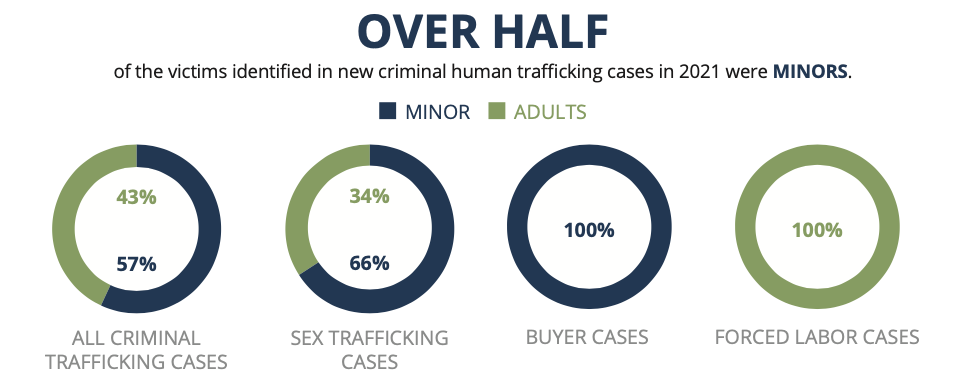 The 2021 Federal Human Trafficking Report's findings are not a prevalence estimate of trafficking in the United States, but instead serve as an objective summary of how the federal justice system holds traffickers accountable for their exploitative conduct. The Report does not capture data from state prosecutions, state civil suits, or human trafficking cases that are not prosecuted.
Learn more about the Federal Human Trafficking Report here.