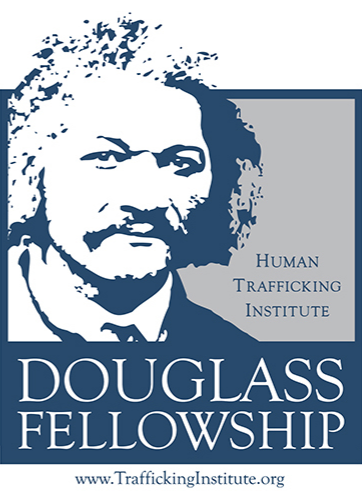 What is the Douglass Fellowship?
Inspired by Frederick Douglass's commitment to freedom, education, and advocacy, we provide an opportunity for law students chosen through a competitive process to participate in a eight-month fellowship program focused on developing future leaders in the anti-human trafficking movement and providing resources to those currently combatting human trafficking around the globe
Empowering the Next Generation of
Anti-Trafficking Leaders
Through thorough research and being paired with a mentor, each Douglass Fellow will deepen their understanding of human trafficking and make a significant contribution to the cause of freedom.
The Douglass Fellows represent the next generation of anti-trafficking leaders working to decimate human trafficking at its source.
Trafficking Matters: A Douglass
Fellowship Podcast
From HTI's Douglass Fellows comes the Trafficking Matters podcast. In Season 1, hosts Alicen Rodolph and Samantha Franks speak with anti-trafficking professionals, providing helpful resources and insights for those interested in joining the movement.
Alyssa Achiron
Emory University School of Law
Alyssa Markheim
University of South Carolina School of Law
Caitlin Parets
William & Mary Law School
Our Mentors
Douglass Fellows have been paired with mentors from many prominent anti-trafficking NGOs and government agencies
Alyssa Achiron
Emory University School of Law
Alyssa is a third-year law student at Emory University School of Law located in Atlanta, Georgia. She had the privilege of externing with Senator Elena Parent, where her focus was on championing child advocacy. Additionally, Alyssa gained invaluable experience as a law clerk at Brownstone Law, specializing in criminal defense, and Gideon Law Group, dedicated to safeguarding First Amendment speech rights. Alyssa is an active member of the Student Body Association and holds the position of Vice President of the Jewish Law Student Association.
Alyssa Markhiem
University of South Carolina School of Law
Alyssa is a third-year law student at the University of South Carolina School of Law in Columbia, South Carolina. She has spent her time in law school clerking with Charleston Pro Bono Legal Services, Price Benowitz, a private criminal defense firm, and the Juvenile Public Defender's Office in Columbia, South Carolina. Alyssa currently serves as the President of the Pro Bono Board at UofSC. She is also a student attorney in the Youth Defender Clinic at USC Law where she has been able to take on her own clients and represent them in court. Alyssa is passionate about victim's rights advocacy and ensuring that survivors of trafficking are not criminalized and thus revictimized in the legal system. In her free time, Alyssa enjoys thrift shopping and checking out local coffee shops.
Caitlin Parets
William & Mary Law School
Caitlin is a third-year law student at William & Mary Law School in Williamsburg, Virginia. She has the privilege of being the president of the law school's Comparative Legal Student Scholars and editor-in- chief of the Comparative Jurist legal blog. During law school, Caitlin has interned with the Special Victims Unit of the Prince William County Commonwealth's Attorney's Office, worked in the W&M Immigration Clinic, and interned internationally with a legal aid and rule of law clinic in Pristina, Kosovo. These experiences have directed Caitlin's interest in pursuing an international and criminal law career focused on public service, transitional justice, and human rights.
Jenny Bloodworth
Baylor School of Law
Jenny is a third-year law student at Baylor School of Law in Waco, Texas. During law school, Jenny has spent her time externing with the Undikumbukire Project Zambia, the Parent Advocacy Program, the United States Attorney's Office- Western Division, and both Limestone and McLennan County District Attorney's Offices. Jenny currently serves as a Court Appointed Special Advocate (CASA), where she advocates for the best interests of children who have been removed from their homes due to abuse or neglect. Jenny is also the president of Baylor Help, Educate, Advocate, Learn (HEAL), an organization dedicated to creating better advocates by educating future lawyers about the prevalence of domestic and sexual violence while teaching trauma-informed care methods to students at Baylor Law.