Federal Human Trafficking Report

We publish the Federal Human Trafficking Report each year as a tool for justice sector professionals, government agencies, and everyday advocates to understand the U.S. federal response to human trafficking and promote improvements. This project is essential to evaluating how well the United States prosecutes suspected traffickers because this massive collection of data is not available anywhere else. We are the only organization to compile statistics from every criminal case since the landmark Trafficking Victims Protection Act of 2000 formally made human trafficking a federal crime. Check out the full Report and learn about how well the federal justice system in your state is addressing human trafficking:
From 2000 through 2022 there have been
Human Trafficking Prosecutions Filed
Victims in Human Trafficking Cases
Convicted Human Trafficking Defendants
The Report is Now Interactive!
The data published in the Report each year is only a small representation of the amount of data collected from those cases and stored within the HTI database. Now, you can explore some exciting data visualizations of data from 2000 to 2022 including:
Prosecutions of Human Trafficking Cases
Victims in Human Trafficking Cases
Recruiters in Human Trafficking Cases
Industries Identified in Forced Labor Cases
Length of Victim Exploitation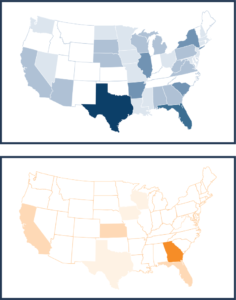 About the Report
The Federal Human Trafficking Report is our annual publication that provides comprehensive data from every federal criminal human trafficking case that United States courts handle each year. In addition, summaries for all 50 states, the District of Columbia, and 3 U.S. territories are created each year to provide a breakdown of prosecution data from each state. The 2022 Report provides an analysis of every federal human trafficking prosecution since 2000, the year the landmark Trafficking Victims Protection Act was passed into law.
A team of attorneys and law school students review every human trafficking case in the federal court system each year. Court documents, press releases, and news sources are reviewed, and prosecutors across the country are consulted, to gather a comprehensive dataset that includes: type of trafficking case, profile of the trafficker, details about the trafficking scheme, age and gender of the victims, and district where the case took place, among others.
The Federal Human Trafficking Report's findings are not a prevalence estimate of trafficking in the United States, but instead serve as an objective summary of how the federal system holds traffickers accountable for their exploitative conduct. The Report does not capture data from state prosecutions, state civil suits, or human trafficking cases that are not prosecuted.